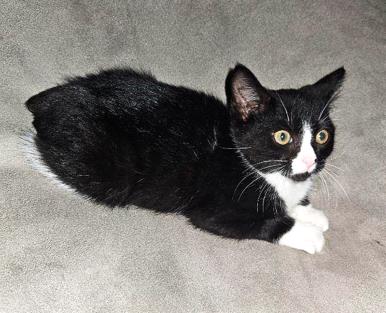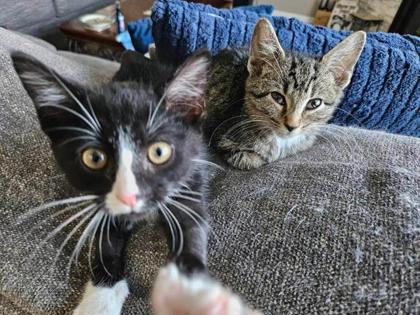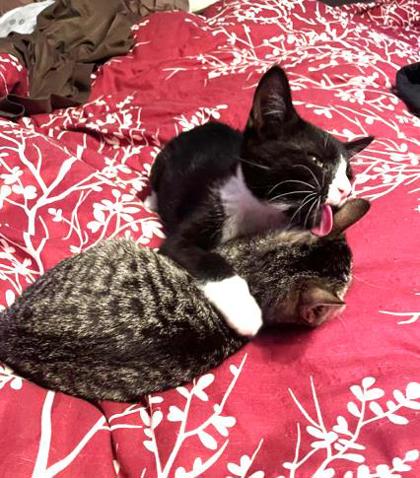 Chicken is a tuxedo kitten with a sleek black coat and distinctive white markings. His charm is only matched by his affectionate and playful nature. Chicken is bonded with his brother Squirt, and they must be adopted together. Chicken is the extroverted charmer of the pair. He adores cuddling, purring, and being close to his human companions. His love is as warm as the sun. Both Chicken and Squirt enjoy playtime, but Chicken takes the lead in their playful antics, entertaining Squirt with his boundless energy. Chicken and Squirt are two inseparable siblings who have been there for each other. Chicken has an amputated tail due to a past injury. The shelter staff and foster family has lovingly cared for them, and now they are ready to find their forever home with a family who will cherish and adore them as a pair. These brothers would thrive in a loving home that can provide them with plenty of love, attention, and playtime. They'll do well with a family (with older children) or individual who can dedicate time to both bonding with them and engaging in interactive play. It's important to create a safe and patient environment for Squirt to help him overcome his shyness and build trust. Welcoming Chicken and Squirt into your home means welcoming a dynamic duo of affection, playfulness, and endless love. While Chicken is the outgoing charmer, Squirt adds a touch of serenity and gentle love to the mix. If you're interested in adopting this inseparable pair of kittens, please apply to arrange a meet-and-greet with these lovable brothers who promise to fill your home with warmth, playfulness, and quiet affection.
---
For animals located at Young-Williams Animal Center or Young-Williams Animal Village, please apply in person. For animals currently in a foster home, please click the link to schedule a meet and greet. Responses from foster may take up to 5-7 business days. Please note: Application does not place animals on hold or guarantee approval for adoption.
Click here for general information about the adoption process and options!